Drive Pins Anchors
Drive Pins Anchors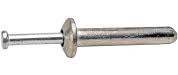 Sometimes referred to as nail/strike anchors, drive pin anchors are light duty, preassembled and tamper resistant anchors designed for use in a solid base material such as concrete, stone, brick, and even grout-filled block.
Drive pins are typically made up of two parts – the zinc plated steel pin and the body. For most of its length, the body is split from bottom up, ending with a mushroom head. The body is also hollowed out from the head down into the shank of its entire length. The steel pin, which is what expands the anchor, is made of high carbon steel. It comes with a small head on one end and a pointed other end. The anchor is set by hammering the steel pin into the anchor body, thus earning its other name "nail/strike" anchor. As the nail is hammered down through the body of the anchor, the part with a split expands to push against the interior wall of the drilled hole to lock the anchor in place. This is, however, not advised for overhead applications.
As a few tips, the diameter of the hole to be drilled must be equal to the diameter of the pin drive anchor being installed. If the hole is oversized, then you will find it difficult to set the anchor in place, or will fail altogether. This will greatly reduce the holding values of the pin drive. Also, a hammer type drill is best used for the creation of a perfect hole without irregularities.
At The Industrial Depot, you will find high quality drive pin anchors that will surely meet your high standards. Below are specifications we can offer: