Eye Lag Screws
Eye Lag Screws or Eye Screws
Ey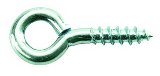 e Lag Screws are designed for both applications on wood and metal. While these serve a variety of purposes, these are commonly utilized for hanging jack chains or attaching ceiling wires to wood joists. Its sharp end allows for easy installation.
The Eye Screws, on the other hand, feature a loop at one end and a threaded screw base. The base allows for secure holding, while the loop can be used for several purposes such as hanging bags, flowerpots, and other ceiling or wall decors and items.
These Eye Screws can be made from steel, stainless steel or brass. Steel is the most common among the three. While it basically offers the highest strength, it does not do well when exposed to moisture, because it has the least corrosion resistant property. Thus, for outdoor applications, the stainless steel eye screw is chosen, because it is resistant to corrosion due to its protective layer of chromium. The third kind is the brass eye screw which comes with a bright golden color. This is usually chosen for its aesthetic appeal and where high friction is not present. This is also resistant to corrosion and is nonmagnetic due to its electroplated finish.
Below are the Eye Lag Screws and Eye Screws we have in store: