Sleeve Anchors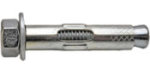 You can use sleeve anchors and sleeve fasteners to fasten objects to a concrete or masonry structure. You can easily join two or more concrete structures together or secure a heavy shelf to a brick wall.

Sleeve anchors are sometimes called two-step bolts because you must first drill a hole in the concrete or masonry before inserting the sleeve fastener.

Once you insert the bolt into the securing structure, ensure you tighten it based upon manufacturer specifications. Otherwise, the fastener may not fully expand and the load may slip damaging material or hurt someone.