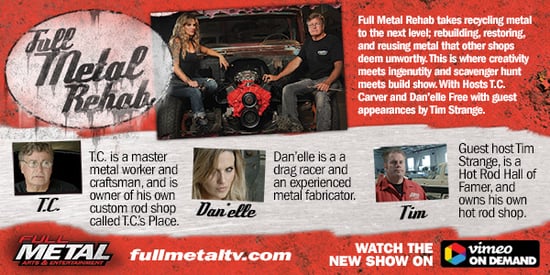 Full Metal Rehab Releases Third Show
February 28 2017
Full Metal Rehab just released its third show on the Chevy Apache truck build. In this episode, Full Metal Rehab completes the build and gets this old truck back on the road again. This show, in addition to episodes one and two can be purchased at Vimeo On Demand.
The new online show Full Metal Rehab takes recycling metal to the next level; rebuilding, restoring, and reusing metal that other shops deem unworthy. This is where creativity meets ingenuity and scavenger hunt meets build show. With hosts T.C. Carver, Dan'elle Free, and Jeb Greenstone, with guest appearances by Tim Strange.
The Industrial Depot is a proud sponsor of Full Metal Rehab, supplying not only nuts and bolts, but also any fabrication supplies. Metal restoration has always been an interest of The Industrial Depot since 1973. We will be sponsoring and highlighting parts of the show while working with the best Full Metal master fabricators in the industry. We are excited for the first three episodes in the three show set which focuses on a 1960 Chevy Apache rat rod which will serve as the shop truck for Full Metal Rehab which is filmed at T.C.'s Place.
For more information go to www.fullmetaltv.com