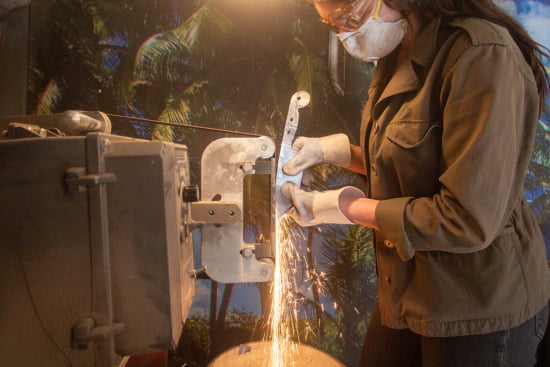 JET Masters: Chelsea Miller Knives
January 2 2020
Originally from Vermont, Chelsea Miller grew up on her family's farm where she learned how to live off the land and how-to blacksmith from her father. Living so close to nature pushed Chelsea to want to find new ways to express herself as both a person and an artist. She moved to New York to attend high school to chase her dream of becoming an actress, and she ended up acting in many films and dramas. After spending several years in New York, Chelsea moved back home where she started pursuing a career as a knife maker.
Chelsea's knives are one of a kind. She forges her blades out of old metal rasps which are perfect for knife-making. This technique allows her to include a razor-sharp edge, as well as having the backside of the knife for grading. The knives that come out of Chelsea's shop are found in some of the top chefs in the world, solidifying her skill as both a knife-maker and artist.
JET is proud to highlight craftsmen and artisans from across the country in order to showcase their mastery in wood and metal through the series JET Masters. JET Masters is a bimonthly web series focusing on the amazing stories from talented craftsmen and organizations from a broad range of industries.
To check out our full line of JET Equipment, click here.