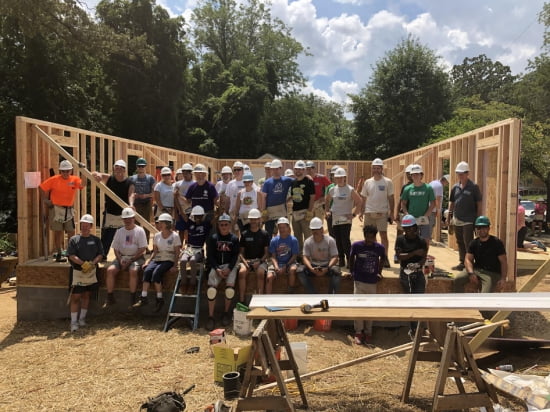 JET Masters: Habitat for Humanity
January 4 2021
Habitat for Humanity was founded in 1978 in Americus, Georgia, with the simple mission to bring people together to build homes, communities and hope. Over the years, Habitat has impacted the lives of over twenty-two million people all over the world. Although they are an international organization, Habitat for Humanity is dependent on volunteers coming together wanting to impact local families in their communities.
Inside of their Atlanta warehouse, all of the walls, door frames, porch columns, and other components of a house are constructed. Habitat generally builds two houses at once inside their facilities. Master craftsmen with the help of volunteers work alongside one another to keep the project on schedule and ensure each component is ready to be delivered as promised.
Once the house is ready for assembly, volunteers once again gather to erect the home in eight days. At the end of the build, everyone involved gathers together for a dedication ceremony to reflect on what has been accomplished. Each home Habitat builds provides a safe harbor for families and their children to grow and flourish for decades to come. There is no doubt that homes built by Habitat are some of the best in their communities.
To check out our full line of JET Equipment, click here.