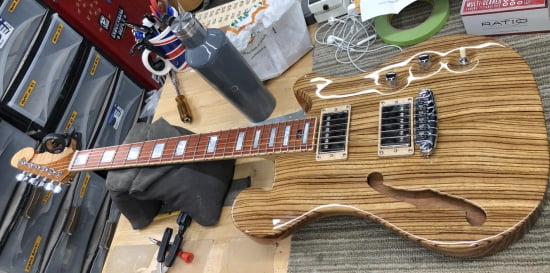 JET Masters: Harper Guitars
September 12 2019
Jacob Harper opened Harper Guitars in 2013 after dabbling in guitar making as a hobby/part-time job. They specialize in having ten different models of guitars, basses, and electric mandolins while also having custom 'one-off' builds which gives the customer more creative input into their instrument. Instruments coming out of Harper Guitars are very comfortable, easy to maintain, and allows the artist to focus on performing.
Like many talented craftsmen, Jacob didn't have the income to go out and buy the kind of quality guitar he wanted, so he decided to start making them. Although many people in his craft go to school to do what he does, Jacob is completely self-taught, and his instruments raise the bar for the rest of the competition. Today, Harper Guitars are played by professional musicians in different genres across the country. We are proud to feature Harper Guitars as part of our JET Master team.
JET is proud to highlight craftsmen and artisans from across the country in order to showcase their mastery in wood and metal through the series JET Masters. JET Masters is a bimonthly web series focusing on the amazing stories from talented craftsmen and organizations from a broad range of industries.
To check out our full line of JET Equipment, click here.