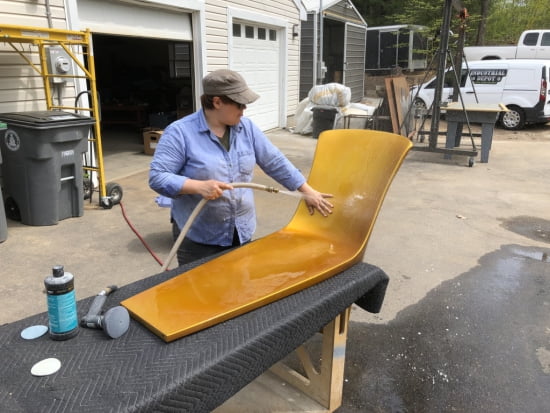 JET Masters: Vivian Beer
July 27 2019
Located in New England, Vivian Beer works as a designer/maker creating furniture which are absolute works of art. Her sleek, abstract metal and concrete furniture combines contemporary design with sculpture, creating objects which alter expectations of and interface our domestic landscape.
In 2014, Vivian gained a part of a Research Fellowship with the Smithsonian National Air and Space Museum which plays a large role in the simple aeronautic design of her work. Her work is highlighted in the Smithsonian Art Museum, The Museum of Fine Arts, The Brooklyn Museum of Art, as well as public art in several major cities.
Vivian also travels the country working on collaborations with other artists; she also puts on workshops in her studio in New Hampshire, teaching classes such as welding for sculpture and digital design and production.
JET is proud to highlight craftsmen and artisans from across the country in order to showcase their mastery in wood and metal through the series JET Masters. JET Masters is a bimonthly web series focusing on the amazing stories from talented craftsmen and organizations from a broad range of industries.
To check out our full line of JET Equipment, click here.