A325 Structural Bolts
A325 Structural Bolts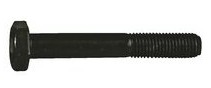 The Industrial Depot has all possible bolts you need for every construction project. Included in our inventory are high quality A325 Structural Bolts that will surely meet your every project requirement. The A325 Bolts are commonly specified by engineers and contractors for use in steel connections in heavy construction projects such as buildings, bridges, tunnels, highways and streets, power lines, major pipelines and other irrigation projects, marine construction, and several more. This is one of the most commonly utilized bolt types in the United States.
Our A325 Structural Bolts are manufactured following the standards of the American Society for Testing and Materials (ASTM). These are created with a heavy hex head configuration to provide a wider bearing surface for which to distribute the load. A325 Bolts are manufactured with specific thread lengths, based on the bolt's diameter. This threaded body is designed to be shorter than the non-threaded body (also referred to as the "shank length"), because this simple design detail offers a stronger tensile connection, making it the perfect bolt for heavy construction.
At The Industrial Depot, we've got various types of A325 Structural Bolts that come in different diameters and lengths. Here is a list to guide you accordingly.
US Standard Thread Length for Bolts
79 products found.

Showing

43 - 79

Page:

<<

1

2
79 products found.

Showing

43 - 79

Page:

<<

1

2