Grade 5 Coarse Thread Zinc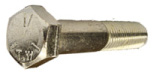 A Grade 5 Coarse Thread Zinc Hex Cap Screw is a hex cap screw that comes with coarse threads and coated in zinc. As a hex cap screw, this features a thick, hexagonal head. Under the head is a washer face that provides ample space for bearing when being tightened with a wrench. This threaded fastener is a common choice for several residential, commercial and industrial projects, because this can easily put two things together. It is also designed to be inserted into pre-tapped holes and for use with nuts. Grade 5 hex cap screw are made of medium carbon steel quenched and tempered with a hex head that bears three radial lines.
This type of screw also comes in different lengths, diameters and mechanical properties:
Nominal Size Range: 1/4 inch through 1 inch
Proof Load: 85,000 psi
Minimum Yield Strength: 92,000 psi
Minimum Tensile Strength: 120,000 psi
Nominal Size Range: over 1 inch to 1-1/2 inches
Proof Load: 74,000 psi
Minimum Yield Strength: 81,000 psi
Minimum Tensile Strength: 105,000 psi
Coarse-threaded screws are durable and have a high resistance to stripping and cross-threading. Compared to fine threads, the distance between two threads in a coarse type is wider, so there is more material in between, which renders better flank engagement. Additionally, coarse threads are less susceptible to damage or from being nicked, so careful handling is not really that essential. In terms of installation, this fits into place much faster, saving more time. Coarse threads are not greatly affected by plating buildup, unlike a course thread that encounters more gaging and assembly issues due to such buildups. There certainly are differences between the two, and one will be much more suitable for a certain application. So, contact us for more details.
Our coarse thread Grade 5 hex cap screws are coated with zinc, an element that has been used over a century for enhancing the performance and longevity of steel. This is a very effective and affordable way of protecting steel from damage caused by rusting and corrosion. Coating steel with zinc offers many of benefits, which is why it is among the common practices by steel manufacturers. This technique renders steel stronger and more resilient, resistant to corrosion and aesthetically appealing. Also, this is recyclable and is relatively affordable.
Listed below are some of the zinc-coated, coarse thread Grade 5 hex cap screws that we can offer you. Browse through our website for more high quality and affordable fasteners, hardware and shop supplies.
200 products found.

Showing

127 - 168

Page:

<<

1

2

3

4

5

>>
200 products found.

Showing

127 - 168

Page:

<<

1

2

3

4

5

>>